Jewelry Care and Size Guide
Looking after JOIA jewels properly will make that your beloved piece lasts and shines for a very long time!
Here some advices!
Put on your jewelry after using beauty products. Avoid contact with sprays, perfumes, cosmetics or creams that may leave residues or create abrasions.
Do not use cleaning products with your jewelry on. Cosmetics or cleaning products contain chemicals that can damage the lustre and integrity of precious metals and stones. 
Jewelry and the sea/swimming pools are not a good match. In summer, we all love to swim in the sea or relax in the water, but make sure you don't wear your jewelry. Salt and chlorine can irreversibly damage the color of metals and diamonds.
If you are going to do sport, leave your jewelry at home. Sweat is acidic and can damage metals. You will also avoid knocks that damage the metal or weaken the settings, which could eventually cause the stones to be lost.
Clean them the right way. We recommend that you make it a habit to clean them every time you wear them by simply wiping them with a cotton cloth to remove fingerprints, grease and dust.
Store them in a box well protected from light. Keep in mind that gold is a soft metal that scratches easily. 
Be careful with pearls. Pearls are particularly sensitive to contact with chemicals. Always wear them after you have finished applying sprays, perfumes and make-up.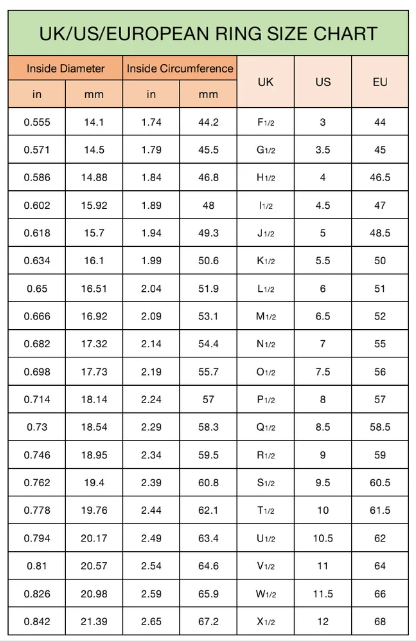 How do I figure my ring size?
An easy way to figure your size is to pick a ring that already fits you and measure the internal diameter. Once you have the measure you can find your size in the size table below.
If you're between sizes, choose one size up.